Pioneer Library System Debuts Norman Public Library East
by Christian Potts
Norman's newest library is open for business, with Norman Public Library East opening its doors at 3051 E Alameda St.
The library becomes the 12th in the Pioneer Library System, which provides library service to Cleveland, McClain and Pottawatomie counties. And it's the third in Norman, joining Norman West, which opened in late 2013, and Norman Central, a staple in downtown Norman that next year will be moving a few blocks north to a new location currently under construction.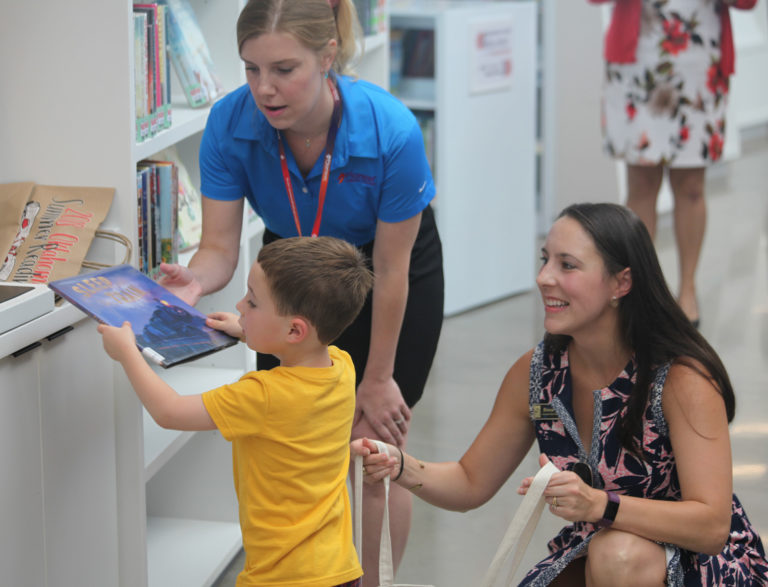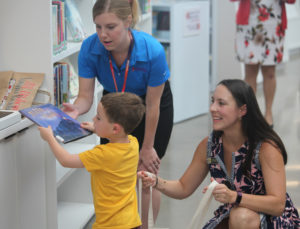 "My love for libraries started with the very first library right here in Norman, Oklahoma," said Lynne Miller, Norman Mayor and an avid library user. "Now I see this library and I don't know whether I want to cry or I just want to dance. It's wonderful."
The library project was part of the Norman Forward quality of life package approved by Norman voters in a 2015 election and shares land also occupied by Norman's Fire Station No. 9.
The library features 12,500 square feet of space housing a collection of more than 20,000 items, with meeting rooms, study rooms, outdoor spaces and areas for childre, teen services and technology use as a priority.
Hundreds turned out for the opening day event, which included a Norman Chamber of Commerce ribbon cutting and visits from many top city officials and others who played a major role in making the library a reality.
Breea Clark, Norman Ward 6 City Council representative presented a passionate speech about libraries and later watched as her son Ryatt made the library's ceremonial first checkouts. For the record, a collection of several dinosaur-themed books.
"I've always loved libraries. Books were my escape from reality, my connection to other people's reality, my lessons from history and my hopes for the future," Clark said.
Part of the design for the property was a piece of public art located on the west side of the building. "Prairie Wind," produced by Charleston, Ill., artist James Johnson, was unveiled in a ceremony earlier in July.
Matthew Kruntorad, architect of record with Meyer, Scherer & Rockcastle, the architectural firm handling the design work for the east and central libraries, talked about the design of the building but spoke more about his hopes for the lives it will touch in the future.
"It's great to see it all through to the end, and I hope there will be a lot of great memories made here," he said, looking over at two young children sitting in the lap of their mother as she read them a colorfully-covered book.
"And it looks like they already are."
Find out more about the new library or any of the services of the Pioneer Library System by going online to www.pioneerlibrarysystem.org or with the Pioneer Library System Connect App, available for download via Google Play for Android or the App Store for iPhone. – BSM