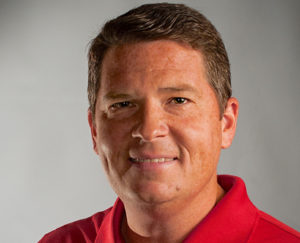 For the past 17 years, Toby Rowland has also hosted the "T-Row in the Morning Show" alongside his Very Best Friend in the Entire World, TJ Perry.
T-Row is in his 10th season as the "Voice of the Sooners." He serves as the radio play-by-play for OU football, men's basketball, and baseball, as well as hosting the Lon Kruger, Sherri Coale, and Lincoln Riley TV/Radio shows. Rowland also serves as a TV host for a wide variety of programming on Sooner Sports TV powered by FOX.
A two-time Emmy Award winner, Rowland spent 12 years as a sports anchor, reporter and producer at KWTV in Oklahoma City. He won the Oklahoma Association of Broadcasters Award for best sportscast and the Society of Professional Journalists Award for Best Sports Reporting. Rowland became a household name in Oklahoma as host of the award-winning "Friday Football Blitz," taking high school football coverage to a new level in the state.
Rowland's play-by-play résumé includes serving as the "Voice of Southern Nazarene University" football, basketball, and baseball, and as "Voice of the Norman Tigers." Rowland also was a part of the Oklahoma RedHawks broadcast team for two seasons.
A 1995 graduate of Southern Nazarene University, Toby is married to his college sweetheart, Jennifer. They have three children: Trevor (22), Payton (20), and Chloe (13).
Toby is also the author of the best-selling children's book "Unhitch The Wagon" a storybook about the famed Oklahoma Football ponies Boomer and Sooner. A delightful book for Sooner fans of all ages!
"Toby Rowland has written a wonderful children's book for all little Sooners and their families. Great idea! Great book! Boomer Sooner!" — Toby Keith, Country Singer and Songwriter.
Listen to Toby weekday mornings from 6-9 on the "T-Row in the Morning Show" on 99.3 FM, 1400 AM or statewide right here on sportstalk1400.com