Motorcycle Club Fulfills Child's Dream with Surprise Visit
by Roxanne Avery
Although 9-year-old Ryan Scroggin will never be able to ride a bicycle, she is able to ride a motorcycle thanks to The Horsemen Motorcycle Club. She recently fulfilled one of her dreams and went on her first ride.
Ryan told her mom when she grows up she wants to be in a motorcycle club and "get me a motorcycle." She continued, "it would be perfect for me because my knees don't bend, so I could ride one." Her mom, Keke Farrar shared her idea on a Facebook post.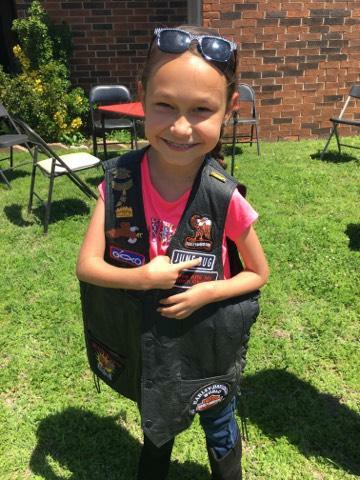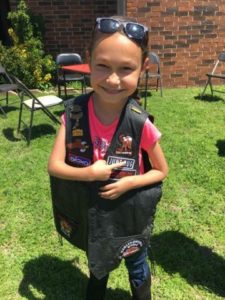 Ryan lives in Norman and has arthrogryposis, a rare and debilitating bone and joint disorder. She has had eight surgeries and will likely need more. When she wakes up every morning her back and ankles hurt, and her mom has to hold her up to take her into the bathroom to brush her teeth.
Smoke, a member of the Horsemen MC, said Farrar's Facebook post caught the club's attention and they organized Ryan's surprise ride.
"Those of us who were free that day, along with another ride club, the #1 Stunnas, and some independent riders who heard about it, went over to Ryan's house to share the love."
Smoke said motorcycle clubs take particularly good care of sick kids and kids with disabilities. "If anyone puts something together for these types of kids, we are going to participate," he said.
And all types of people show up. "It doesn't matter what patch they wear or if they wear a patch at all. We always have a soft spot for these kids," Smoke said.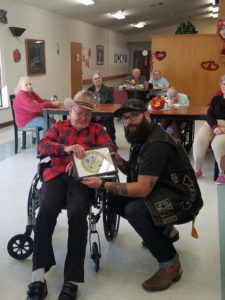 Ryan heard the motorcycles coming before she could see them, and she knew they were on their way especially for her. She became an honorary member of the club, and got her own "cut," which is the black vest motorcyclists wear, signifying their club. She was also given shirts from other clubs.
The visit began with Ryan taking her pick of the bike she wanted to ride.
The first bike Ryan picked was the slingshot, an open-air three-wheel motorcycle roadster. After that ride, she walked up and down the bikes and saw a shiny black and white Harley Davidson owned by "Tank." She wanted to ride that one too.
Fellow Horsemen brother, "Radar," helped her with her helmet and to hop on the bike.
"We took off and she put her helmet in the middle of my back and that's where she stayed," Tank recalled. "She never acted afraid; in fact, she acted like she'd been riding forever. She was grinning from ear to ear when she pulled her helmet off."
Before the motorcyclists left Ryan's home, she extended her hand to Tank. "I told her I don't shake hands and gave her a big hug," he said. He told her if she ever wanted to go on a ride again, her mom has his phone number.
The primary focus of The Horsemen MC's mission is mostly about riding for veterans.
"In a nutshell, what we do is travel to a different nursing home throughout Oklahoma once a month. Each chapter goes to a different one and spends time with veterans," Smoke said.
"We present veterans with a certificate that's similar to any award certificate in the military," Smoke explained. "We also present them with a printed picture of the seal of the branch of their service in a frame."
Smoke said Vietnam veterans never heard the words, "Thank you for your service."
"We are not a veterans' club but a lot of us are veterans – so that's our main focus," he said. "We have a chapter in Moore and Chickasha and split up to cover the whole state. I'd love to see us with chapters all over Oklahoma, so we can cover more areas each month."
It has taken awhile to get around the whole state, but slowly The Horsemen MC are making progress. The club also takes on additional projects like Ryan's when they are able.
"There's some stuff we don't like to do but we need to," Smoke said.
About a week after Ryan's ride, The Horsemen MC rode in a funeral for a little four-year-old boy who passed away. Kylier Phillips, also from Norman, had a story similar to Ryan's.
"He loved motorcycles and race cars," Smoke said. "His dad is in the racing community, and we led the funeral procession just to be able to give him that one final ride."
"We were absolutely honored to give him his last (ride)," Smoke said. "Tank and I have ridden side-by-side at a lot of funerals. That one was one of the hardest we've ever done.
But anytime, anything for kids, we're all for it." – BSM