Church Rolls Out Welcome for Sooner Fans
by Roxanne Avery
Father Jim understands the complexities of the modern world, especially surrounding game day on the University of Oklahoma campus.
That's why he established a Game Day Mass this year as a way of feeding the spiritual needs of OU football fans. Father Jim is also known as Reverend James Goins, the pastor of St. Thomas More University Parish and Student Center, 100 Stinson St. in Norman.
"Sunday Mass is an obligation for Catholics and Saturday evening counts as Sunday," Goins said. "Game Day Mass is a great way for football fans to fulfill their obligations."
The reasoning behind the idea for Game Day Mass is that a lot of people come out for the game, driving long distances, and by the time they drive home, they may be tired on Sunday morning.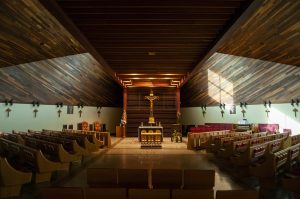 "They can enjoy Mass and a peaceful Sunday morning and support the Sooners as well," Goins said.
When the Sooners hosted Army on Sept. 22, visitors from other parts of the country were in Norman rooting for Army.
"It was very nice to meet them," said Goins.
With a pared down program, described by Goins as a "no-frills Mass," the service is complete in 40 minutes. The Game Day Mass is for Catholic Sooners, visiting Catholics and everyone else.
"Everyone is always welcome at a Catholic Mass," Goins said. "Everyone is welcome to attend."
"As the university parish we are passionate about OU and passionate about the Sooners, and we want to do everything we can to help people come out and support the team," Goins said. "We think by helping Catholics fulfill their obligations on game day, it will also help them enjoy the game."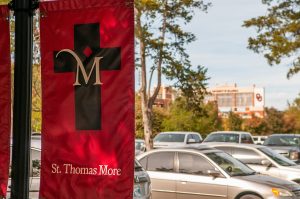 The time for the Game Day Mass varies depending on the time of kickoff. For early kickoffs, Mass begins 30 minutes after the conclusion of the game. For a late kick off, Mass begins 90 minutes before kickoff.
There's even more going on at St. Thomas More, including Sunday Suppers for college students following the 5 p.m. Sunday Mass. For more information, visit the website at www.stm-ou.org. – BSM