by Chris Plank
Trae Young is the talk of the college basketball world. But, at his core, he is just a boy from Norman who loves to hoop, a ball player who chose to stay close to home and showcase to the world what Normanites have known for years.
NBA players, college hoops experts and even opposing coaches are singing his praises. But while the world raves and the basketball community marvels, Young remains focused on his teammates and team goals.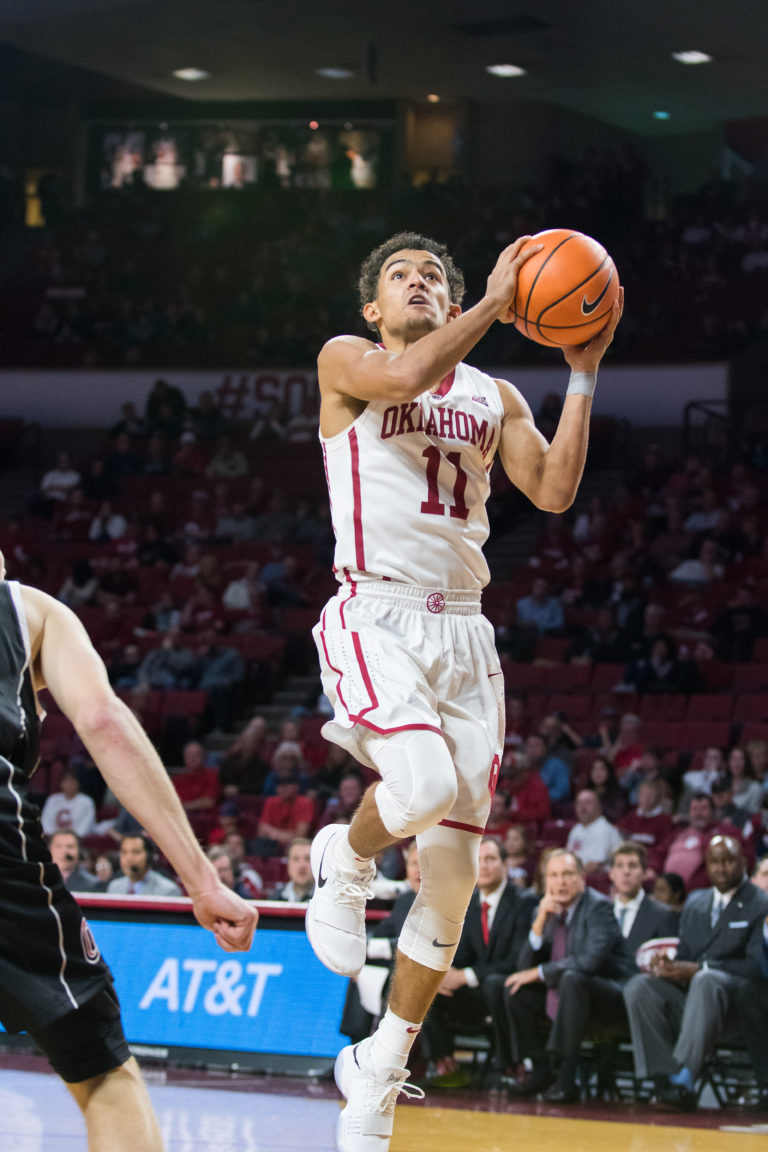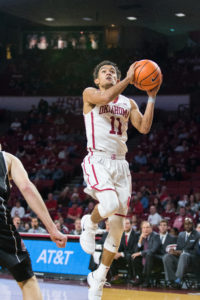 With talk of being a top-5 pick in the NBA draft, mock drafts have pushed Young into the one and done category. But you can't tell much difference from the Trae Young that committed to Oklahoma, the one who played for Norman North, to the Trae Young today that draws consistent comparisons to Steph Curry.
"He's unbelievable, just the confidence that he plays with," Curry said of Young earlier this season. "The comparisons are what they are and I know when I turn on to watch him play, that kind of magnetism is pretty special in the college game. He's fun to watch."
Even Lebron James has checked in on the Young madness. The four-time MVP and three-time NBA champion posted a picture of the two together on Instagram with the caption, "Keep going young King #StriveForGreatness."
But, for now, the Sooner freshman and Norman native is all about his team.
"I'm just having fun," Young said. "This is what you dream of when you're a kid, playing college basketball at a high level and winning. This is fun. I enjoy it. My teammates are my brothers."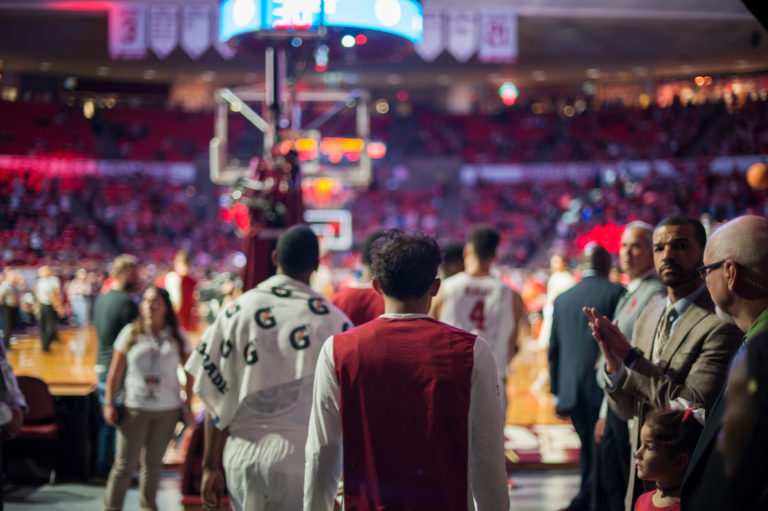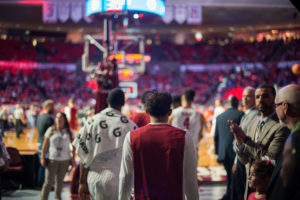 But the hype is not likely to slow down, as conversations center on incredible performances by the starting point guard at Oklahoma.
Opposing coaches marvel. TCU head coach Jamie Dixon wondered if he was even human. Kentucky head coach John Calipari marveled at just how good he has become this early in his career.
"I didn't realize he'd be able to do what he's doing, 70 percent of their baskets he either scores or assists," Calipari said of the Sooner freshman. "I'm happy for Trae. Hope we don't ever have to play him, but happy for him."
The hype is justified. Young leads the nation in scoring and assists. He has scored 40-plus points on multiple occasions, including a breakout performance against Oregon when he finished with 43 points and 7 assists. For good measure, Young added a record-setting, 22-assist performance against Northwestern State.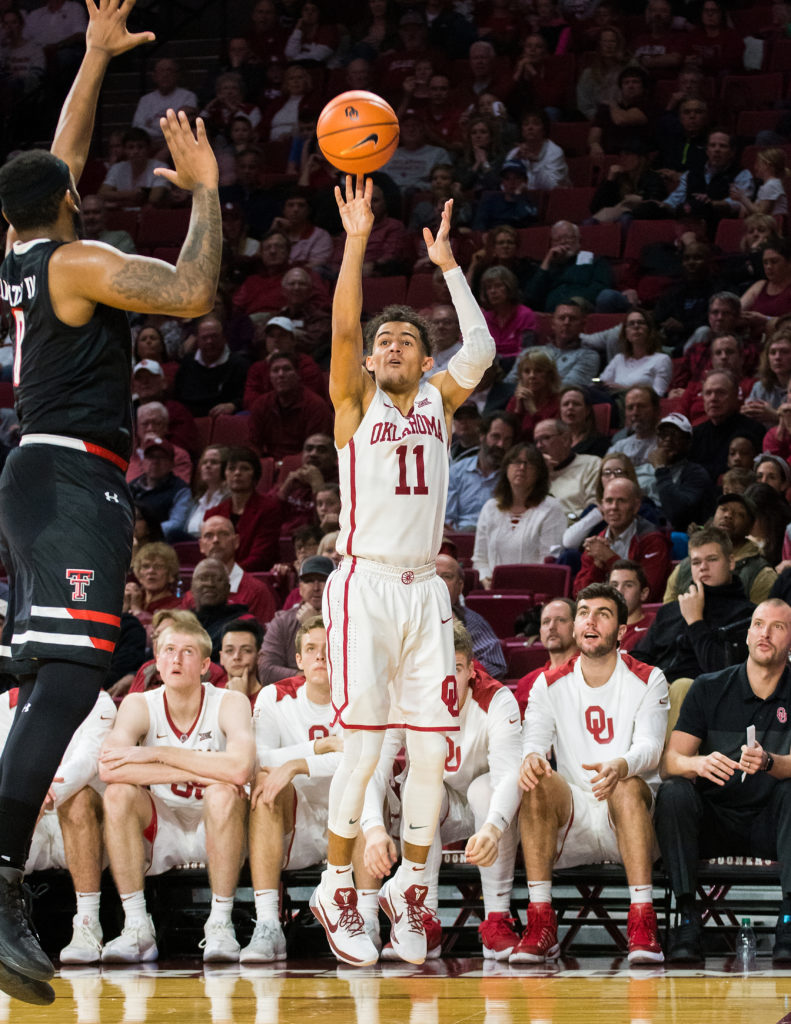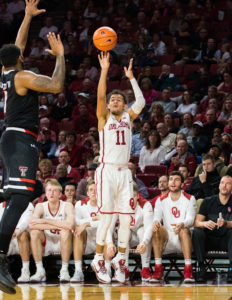 Long-time NBA reporter and Fox Sports 1 personality Chris Broussard upped the ante.
"Trae Young is amazing! Considering what Steph has done in NBA, I'd have to consider drafting Trae at number one!"
But through it all, Young has remained calm and even keeled with an infectious "enjoy the moment" mindset. The basketball world explodes with praise but he continues to find ways to help make Oklahoma a better basketball team.
"Fortunately for us, he likes passing the ball," OU Head Coach Lon Kruger says. "He's not just a scorer. The other players know if they run the floor and make themselves available, Trae will give them the ball. That makes the chemistry a lot easier."
The ability of Young to score almost at will has caught most of the college basketball world by surprise. While there was an expectation of greatness from Young, how quickly it has occurred for the true freshman has been a shock, but not for Young's high school coach Bryan Merritt.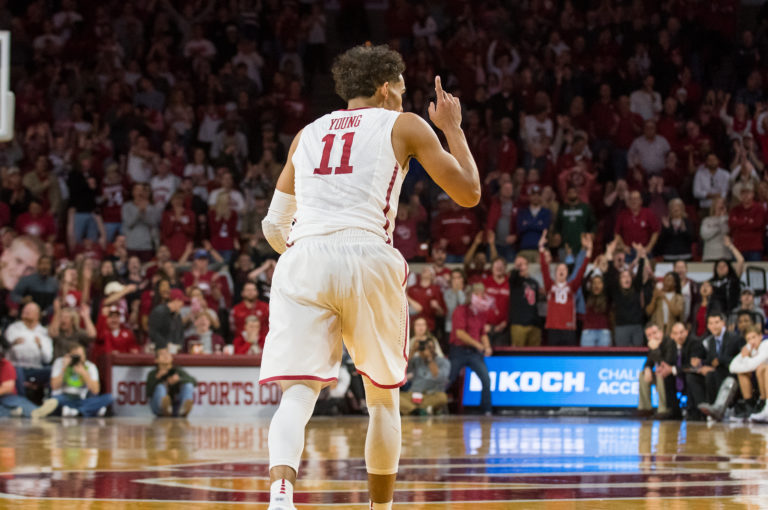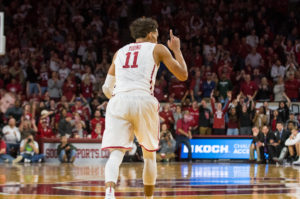 "I'm not surprised," Merritt said of Young's early scoring. "It's been crazy and I've enjoy watching and being a fan and not worrying about if we're going to win or not. I've seen this stuff hundreds of times, the scoring doesn't surprise me. I honestly would've predicted that. The one thing he's done is be consistent. I knew he had games with 30 or 40 but he hasn't had those 9-point games."
The numbers that Young put up as a Timberwolf will help explain why Merritt is not shocked by what he has done at the next level. Young averaged 42 points as a senior in high school and was named a McDonald's All-American. However, there is an area where Merritt has seen incredible improvement in a short amount of time.
"The assist is where he's made the biggest jump since high school. Coach Kruger has done a fantastic job with that. Trae could always pass but when he gets double or tripled and someone picks him up on a screen, he's finding the open guy," Merritt said. "He has really improved with getting everyone else involved. He's just playing within himself and trusting his teammates to make plays and that's probably been the best thing that I've seen in him."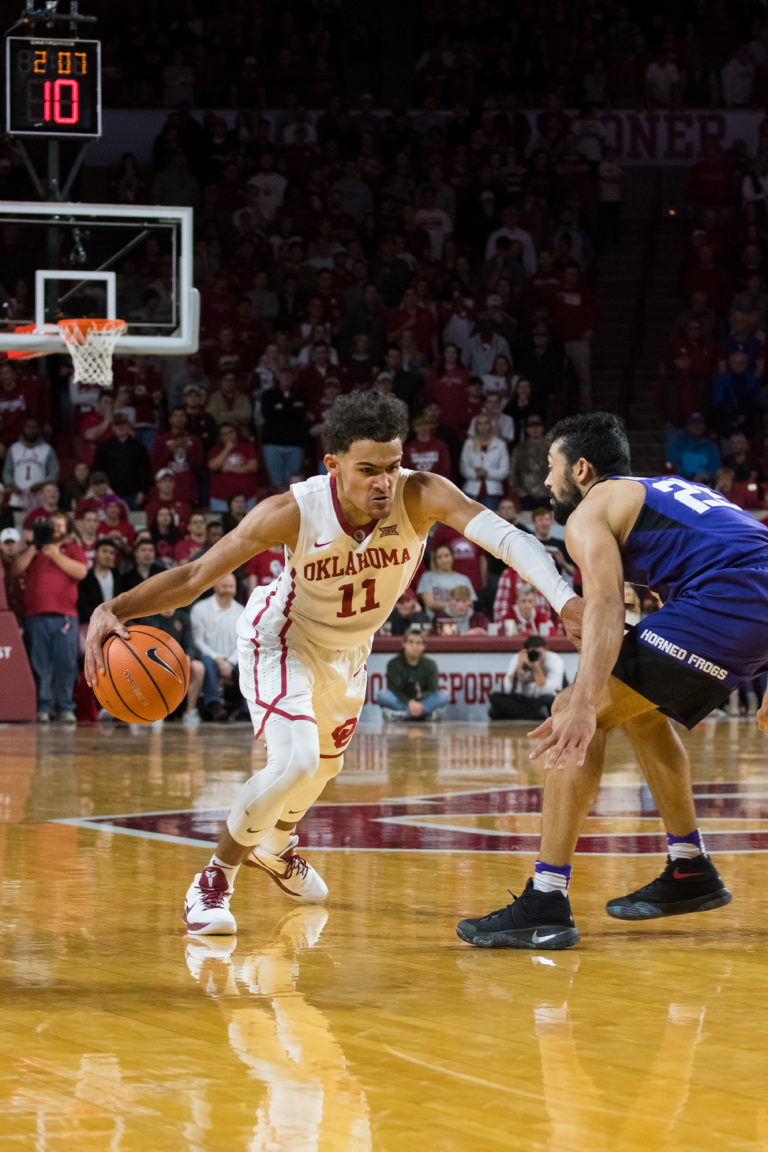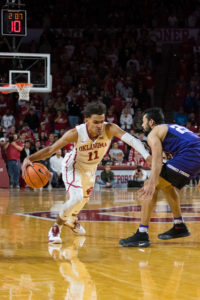 While the rest of the nation just now becomes familiar with Young, the name Trae Young has been a household name in the Norman area and across the state of Oklahoma for years. The excitement and affection for his game is nothing new to us. When Trae Young made the decision to stay in Norman and play for the Sooners, the excitement was through the roof.
"Knowing what to expect coming in was huge," Young said of his decision to stay in Oklahoma. "I love being able to have the opportunity to play for a coach like coach Kruger and have the teammates I have around me. It's an experience I couldn't pass up. Being able to stay home and rep my city and state of Oklahoma was something I loved."
But there was another piece of the puzzle that was just as important… family.
"That's the big thing. It's amazing that I can drive five minutes down the road and see my family or go watch my sisters (Caitlyn and Camryn) play volleyball or my little brother (Timothy) play his sports and do his thing. It's awesome that I get to experience those things and they get to be on this journey with me."
As Young continues to dazzle and Sports Center leads with his every move, the reaction could overwhelm a 19-year old. But the same family that is, in part, responsible for Young staying in Norman and attending Oklahoma, is also the reason for his humble nature. His father Rayford Young was a standout at Texas Tech and has provided a constant reminder to his son to not let any of the hype or talk get to his head.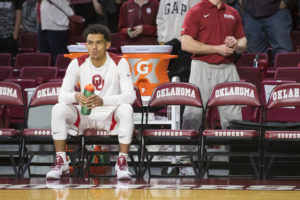 "The biggest focus is knowing that nothing has been done yet," Rayford Young said during an interview on ESPN. "They've won some games. They're in the top 10. He has nice stats but that's not what he came here for. He came here to go to the tournament and get to the Final Four. He wants to achieve his dreams of going to the next level. That may happen in a few years, but that's how he stays level headed, taking it one game at a time, one day at a time."
The ability to stay grounded and focused is something Merritt noticed in the Young family from an early age. But the experience of being in the spotlight for the majority of his basketball career has helped prepare Young for this moment.
"Family for sure has helped keep him grounded. His mom (Candice) and dad are incredible," Meritt said. "I think also his experience helps him. After high school games, you had 200 people trying to talk to him. Every one of our games his senior year was packed and he's played on the big stage. At his age, he's very experienced at people wanting a piece of his time. He's done a great job. It's a credit to his family."
Being comfortable with his head coach is another reason for his smooth transition to the college game. Kruger has provided a blue print that allows him the freedom to make the most of the talent he possesses.
"He's been amazing for me," Young said of the influence of Kruger. "He's helped me through all of this. I was able to adjust to how he wanted his point guard to play and how he wanted me to play and get everyone involved. Not only on the court but off the court."
Trae Young is the talk of the entire sports world, but what truly makes Young great is his personality and demeanor. With a focus on family and being a good teammate, the true freshman has already etched a spot as one of the most exciting and popular players to ever step foot in the Lloyd Noble Center. – BSM