OU Volleyball Player Sets High Mark Despite Size Disadvantage
by Chris Plank
Alyssa Enneking has reached historic heights during her volleyball career at the University of Oklahoma. The unlikely outside hitter became just the 14th player in school history to reach 1,000 career kills.
While the path to 1,000 has not always been easy, the leadership and emotion that Enneking plays with has helped set the foundation for the future of volleyball at Oklahoma.
While the program is heading in a new direction under the leadership of first-year head coach Lindsey Gray Walton, Enneking and the group of seniors have several traditions they hope to continue for years to come. As Oklahoma finished its first match of the season, the team started to retreat to the locker room, but Enneking made sure Gray Walton was aware of the postgame tradition of singing the alma mater.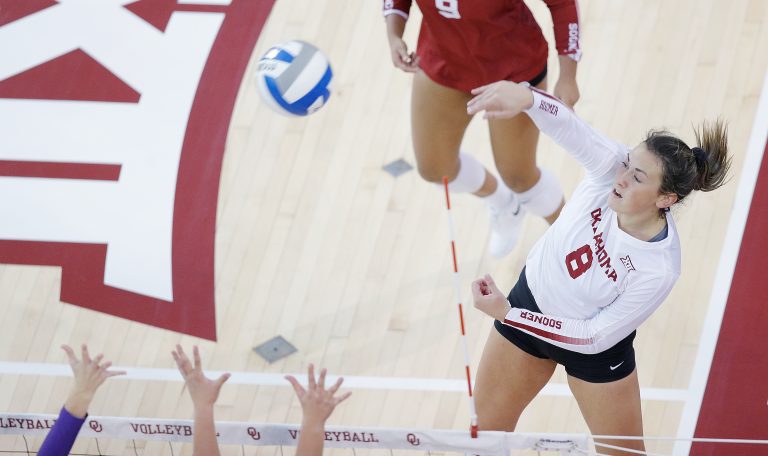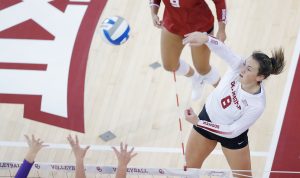 "It's been a little bit of a joint effort between the seniors and coaching staff to balance out the direction of the new program," Enneking said of her leadership role with the Sooners. "Seniors get to step in once in a while and say hold up we have a tradition we want to keep around."
For the first-year head coach, that is exactly the kind of leadership example she was looking for.
"It's huge. You're looking at a senior veteran who has definitely earned the right to have some major leadership in this team," Gray-Walton said of Enneking.
Enneking has excelled under the guidance of Gray-Walton and the entirely new coaching staff. She leads the Sooners in kills, attempts and hitting percentage, but the amount of trust that Gray-Walton has shown in Enneking has been a confidence booster for the senior.
"She has given me a lot of freedom and trusted me and that's one of the biggest compliments you get," Enneking said. "She has helped me out by really making me feel comfortable, even though it's a whole new program and a new situation. She lets me go and play free and play the volleyball I know."
Oklahoma surpassed its win total from last year after the first month of the season, and Enneking's play is a major reason why. With her continued success, other teams have started to focus more of the game plan on shutting down the League City, Texas product.
"With success comes a lot of pressure," Gray-Walton said. "What we've seen is a really good effort by a lot of teams to go after our heart beat, and we have been able to find other players to step up and rise to the occasion."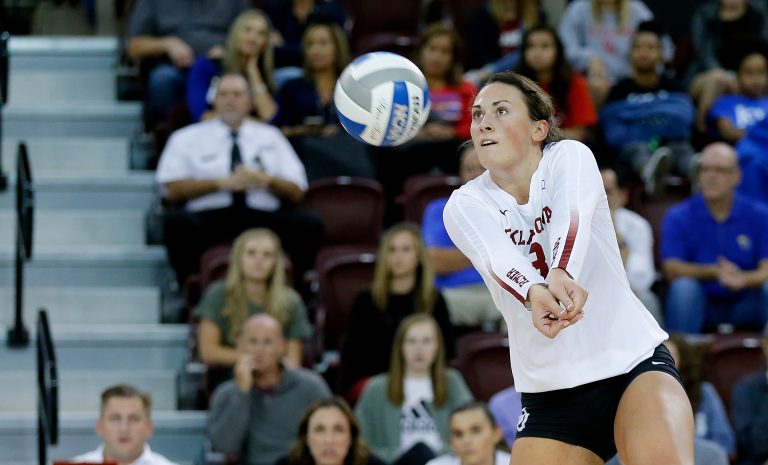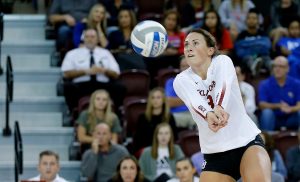 Enneking does not fit the profile of a tradition outside hitter in Division I. Despite being two inches shorter than the average height for her position, Enneking makes up for it with her power, energy and passion.
For Enneking, a majority of her career has been about proving doubters wrong. She has battled through injuries and adversity, but she says the lessons she learned when she was 12 and 13 years old have helped carry her through the hard times.
"I was always counted out because I was smaller," Enneking said. "I had to become a hitter by accident and everyone doubted me because I was too small. I'm going to do what I want. I love obstacles being put in my course. That's just something that I can have fun with on the journey."
Coach Gray-Walton sees that edge and has been able to help her use it to her advantage during her final season as a Sooner.
"I think she embraces the areas of the game that she can excel at and have a competitive advantage over her opponent," Gray-Walton said. "She can play six rotations and can play everywhere. She knows she's 5-11. She knows the person she's going against is 6-4 trying to stop her. She has to be different. She's been fun to watch and fun to coach, and her buy-in has been great, and you see that from the rest of the squad."
Enneking plays with energy. She fires up the crowd and her teammates. Her energy is contagious.
"I think it really ensures confidence in the rest of the girls. If I'm confident, so will the rest of them," Enneking said. "It's really important in the game of volleyball because this is such a mental game. The energy and cockiness that I have on the court assures the rest of the girls that we can do this and that we're good and that we can win this."
On Sept. 26, during a match against Kansas, Enneking reached a significant mark in her career. During the third set, she became just the 14th Sooner in program history to reach 1,000 career kills. Despite her bravado and energy, the milestone was less about reaching a goal and more about having fun playing the sport she loves.
"I think it's a lot bigger than just 1,000 kills," Enneking said. "I would love when I finish playing to share my story with everyone to inspire some girl somewhere, no matter what the obstacle, no matter what anyone says you can do, to do whatever you set your mind to."– BSM