Norman North enters the 2018 football season in transition. With a record of 24-10 over the past three seasons, former head coach Brent Barnes has taken a coaching job in Scottsdale, Ariz., and Justin Jones was named the Timberwolves' new head man at the end of April.
Jones comes to North from Bishop McGuinness, where he and the Irish enjoyed a very successful seven-year stint. He compiled a 68-22 record over those seasons, including trips to the Class 5A state championship game each of the past two years.
"There's a lot of parallels between the McGuinness job and the Norman North job," Jones said. "Norman North is one of the only west-side schools to be in the state finals in recent history in 6A. McGuinness is the same thing. Both programs need to take that final step.
"Taking over a program with one step left, that gets me excited. It was going to take a special place for me to leave (McGuinness). Norman North was one of those that I had always watched from afar. I love the type of kids that they have. I love where the program has gone in the last five to seven years."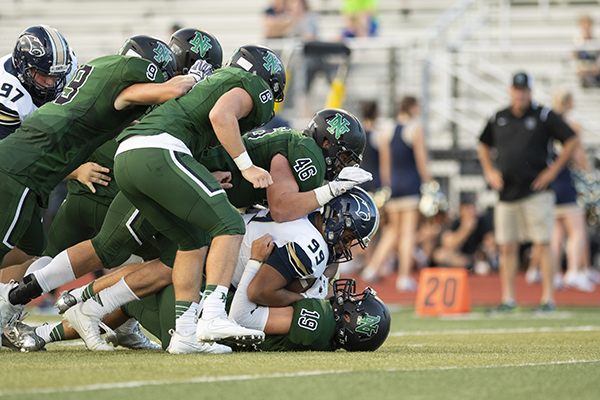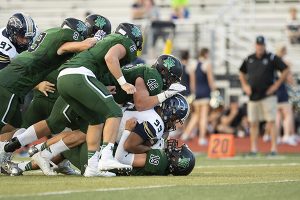 To say the offense will have new faces is an understatement. The Timberwolves are replacing 10 starters on offense, including Ryan Peoples at the quarterback position, the Stoops brothers at wide receiver and Dalyn Alexander at running back.
Coach Jones loves what he's seen from likely incumbent Jacob Switzer (6'3, 175). The junior impressed throughout the spring and summer.
"From his entire body of work from the first day that I stepped on campus, the way that he works in the weight room and outside and his ability and his arm strength, he's really, really good. He's fast, too. He's got all the intangibles we want.
"It's just getting him to understand our system and make this system his own. He's getting more and more comfortable every time he steps on the field. Right now, he's the front-runner in the clubhouse," Jones said.
Jones highlighted juniors Cale Cabbiness (6', 150), Malachi Gatewood (6'-1, 160 pounds) and Jake Roberts (6'4, 225) as pass-catchers to watch.
"Both of those guys had outstanding springs and have done an outstanding job in our seven-on-seven," Jones said.
He feels great about Roberts at the tight end position, too.
"He is going to be really good," Jones said. "He has a lot of experience and is very versatile."
In the backfield, the T-Wolves landed a pair of key running back transfers. Junior Jordan Ford (6', 215) transferred from NHS and senior Blaine Martin (5'10, 165) comes over from Jones where he led them to the Class 3A semifinalist last season with 1,000 rushing yards on 143 carries and 25 touchdowns. Sophomore running back Gabe Trevillison (5'8, 175) is also expected to be in the mix.
The lone returning starter for North is senior left tackle Ja'Vion Combs (6'4, 345). Senior Jaylen Johnson (6'3, 226) will slide in at guard or tackle. Senior Bo Kemmet (6'3, 240) moves to center and senior Austin Pratt (6'3, 240) will be in the mix on the offensive line.
"If I had to give the award to the most consistent, it would have been to the offensive line. I couldn't be happier with the way our offensive line came off the football and really dialed in on our schemes," Jones said.
Schematically, North will remain a spread offense.
"We're going to operate in the world where we want to be able to run the football. A lot of that is quarterback based," Jones said. "Our identity is that we're going to be able to run inside zone and outside zone and our quarterback is going to have to read one of those defenders and he's going to have to make that defender wrong."
Defensively, the T-Wolves will operate out of a base 3-4 defense. Up front, North returns longtime starters in senior Brooks Smith (6'1, 260) at nose guard and senior Cole Mashburn (6'3, 240) at defensive end. Mashburn holds scholarship offers from Oklahoma, Texas Tech and Iowa State, among others.
"When you look at our roster, Cole stands out among everybody," Jones said. "He's certainly an elite athlete and he's an elite football player."
Jones feels great about what he returns in the linebacking corps, too, with seniors Kelton Dominic (5' 11, 210) and Blake Burns (5'10) and junior Jake Landers.
"When you look at our linebacker corps collectively, it's a big strength for us," Jones said. "All of those guys have done an outstanding job in their defensive preparation and what they've brought to the table this far. We return a lot of experience."
On the back end, senior Diontae Newson (5'10, 165) and junior Quan Williams (6', 170) are expected to start at cornerback, while senior Wade Hennessey (6', 178) and senior Dalton Smith (5'11, 185) will man the safety positions.
"Those guys have had an outstanding spring and summer," Jones said.– BSM