by Catherine Poslusny
Adrian Buendia has held many titles over the years: business owner, board member, philanthropist, father and coach, to name a few. He is a man with many interests and passions, and he's always eager to see where they take him.
The one thing that you'll never see, is Buendia standing still. The Norman businessman, owner of Eskimo Sno and Nexus Productions, has taken to heart the importance of always moving forward, and he isn't planning on slowing down anytime soon.
Buendia is originally from Wewoka, but he happily claims Norman as his hometown and anyone that sees his passion for the community would have to agree. After graduating from the University of Oklahoma in the early 2000s, he and his wife, Jennii, settled in Norman with their two children, Adrian, 4, and Elliot, 1.
His entrepreneurial spirit was awakened as a student at OU. Actively involved in organizations across campus, it wasn't a huge leap for him and his friend, David Tran, to venture into the world of disc jockeying. Their first gig was the Soonerthon, a dance marathon, and the pair had so much fun that they branched out to other events, eventually buying their own equipment. Buendia kept getting asked to DJ events, and he kept saying yes, even after his college days were over.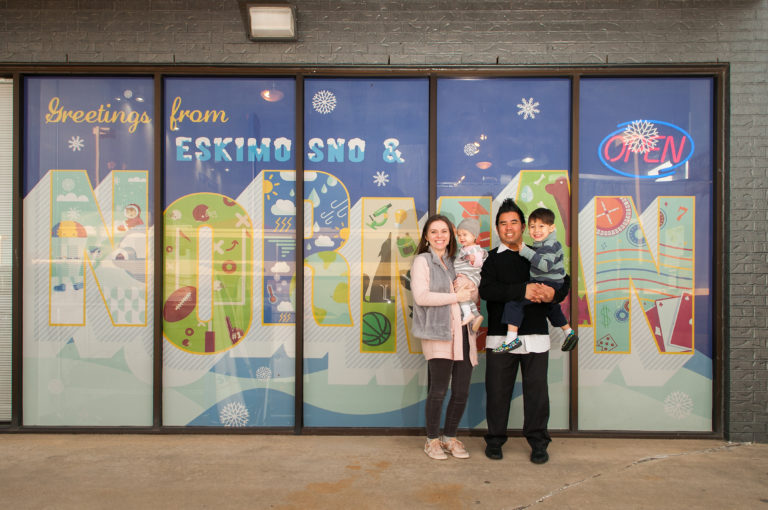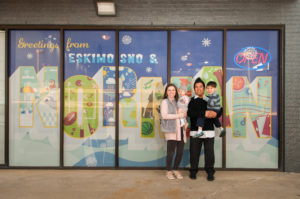 Eventually, he created Nexus Productions, now home to multiple DJs, photo booth rentals, lighting and sound services.
"Being so involved on campus when I was in college helped the DJ business blossom because I was already involved in all of the events that needed DJs," said Buendia. "So the same events that I was doing in college, we're still a part of now, 20 years later."
Buendia still personally DJs more than 250 events each year, and the company has been asked to provide sound and music for everything from backyard barbecues to OU's commencement ceremony.
The connections and friendships that Buendia made during college have stuck with him. They have provided him with exciting opportunities to grow Nexus Productions in the Norman community.
Another one of Buendia's long-time enterprises is Eskimo Sno.
Buendia worked at the snow cone stand for the first time the summer after he graduated from OU. Eventually, he was presented with the opportunity to buy Eskimo Sno, and he jumped at the chance to be involved in a business that was so dear to people in Norman. As hundreds of people stopped by to grab their snow cones, Buendia got to know the community, and he didn't miss the chance to let them know about Nexus Productions.
Now, Eskimo Sno has spread across Norman and Oklahoma City. It has five outdoor stands, two indoor locations, two Eskimo Sno To Go trailers and an Eskimo SnoMobile. Buendia credits his wife for the successful expansion of that business. In fact, she now runs Eskimo Sno while Adrian focuses on Nexus Productions.
No matter which business venture he's got his eye on, one thing that's always on his mind is finding ways to give back to the Norman community. He donates snow cones and photo booths to events around town, including the Chocolate Festival, Taste of Norman, the City of Norman Christmas Parade and Bridges Prom. He's involved with the Parks and Recreation department, and one of Buendia's favorite events to DJ is the annual Daddy Daughter Dance in Norman, an event scheduled for Feb. 3 that usually brings in more than 4,500 people. He also donates sound and projectors to the summer outdoor movie series.
Nexus Productions provides DJs for several events for the Norman Public Schools and the University of Oklahoma, and Buendia has announced many different athletic events at the university.
"I love seeing everybody in Norman and making those connections," he said. "It's important to me to have a great relationship with the city of Norman and everybody here."
Buendia is on the board of directors for the Norman Chamber of Commerce and Visit Norman. He's also a member of the Convention and Visitors Bureau and the Lindsey Street Merchants Association, and is very excited about celebrating Eskimo Sno's 20th summer at the Lindsey Street location this year.
As they celebrate years of success in the Norman community, Buendia and his wife are always looking toward the future and working at a pace that would both impress and exhaust other people. Adrian has just taken over the management of Events in Madison Square near 24th Avenue and Hemphill Drive, and his wife just opened H & J Organizing with her friend, Hallie Palmer.
"The only way to survive in business is to keep moving and doing new things. You have to stay relevant," said Buendia. "I always tell people that one thing that's made us successful is that we diversify. We never just do one thing."
No one knows exactly what the future holds, but it's safe to say that, for the Buendias, there will always be something new and exciting on the horizon.– BSM