As he left his first practice with the University of Oklahoma, new cornerbacks coach Roy Manning couldn't control his excitement. He popped out his phone, jumped on social media and declared his excitement for the whole world to see.
"Speed D is back in full effect baby. I saw strength. I saw some effort. I saw some physicality and I, for sure, saw some take-aways."
Manning could barely temper his excitement as the clock inched closer toward midnight.
"Compete, iron sharpens iron and make yourself better. Taking a step in the right direction and we got that done today. I'm fired up today. Speed D is back, in full effect."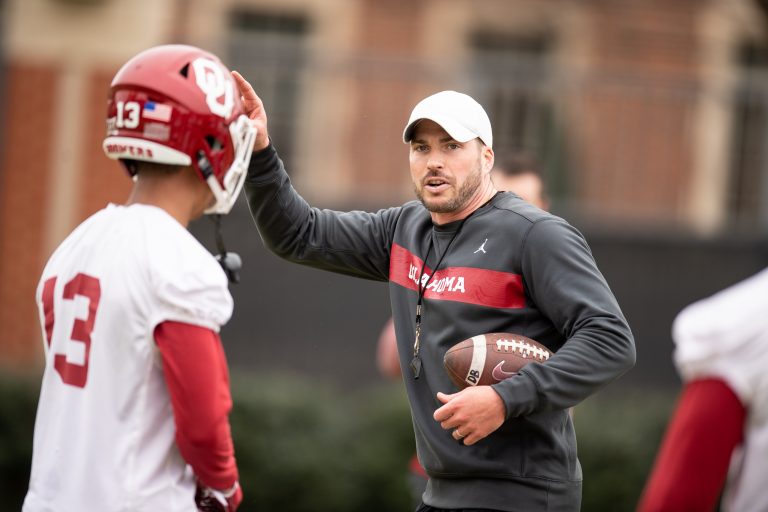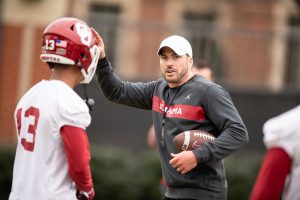 The new era of the Oklahoma Sooner defense is underway.
At Washington State, Manning and Alex Grinch, along with Brian Odom, were key pieces in helping elevate the Cougars' defense. Now, Grinch was calling with an opportunity for the crew to get back together and do it again and Manning was ready for the challenge.
"He's a close comrade of mine, and with him being here, it's an opportunity to get to work together again," Manning said. "Naturally, in this business, you want to stick with your guys, but it's not always up to us."
Grinch was officially named the Sooners new defensive coordinator on Jan. 7. Shortly after that announcement, came the news that Manning would be the cornerbacks coach and that Odom, a former Sooner, would be joining the staff as well.
Odom started his collegiate playing career as a running back for the Sooners after a decorated high school career in Ada. Much like Manning, Odom was excited to reunite with his influential fellow coaches, but he also was excited to return to the University of Oklahoma.
"Growing up in this state, you are one or the other and we were an OU family," Odom said. "Having an opportunity to play was a great honor. There is no doubt being able to come back as an employee is a bigger deal to me.
"To be able to raise my kids in Oklahoma and have them experience this environment and get to help this program win, that's why I come to work."
The defensive philosophy the new Sooner coaches have implemented has been proven to be successful at the highest level of college football. The "Speed D" philosophy emphasizes running to the ball, forcing turnovers and playing with maximum effort.
"Today's offenses are built on space and speed. You have to combat that with speed of your own," Grinch said. "It's a downhill approach. We work into gaps in our front, and speed is our calling card. With speed on defense, it affords you the opportunity to run a multiplicity of coverages and fronts."
Jumping off the synergy of the new coaching staff, the hope is to take the success they had at Washington State and move it to OU. The Sooner defense has been much maligned over the last few seasons, finishing 114th in total defense last year. But the players seem to be already buying into Grinch's style of coaching.
"He's a good dude, we all love him," said sophomore defensive lineman Ronnie Perkins. "He's tough sometimes, but we understand that's coaching. We can see his vision. He's real clear about what he wants and what he expects."
The excitement for third-year head coach Lincoln Riley is high as well.
"I've compared it to—you're playing a card game and all your cards are lying face down. Eventually you're going to pull those cards up and see what you got under there," Riley said. "That is the anticipation for me, and I think a little bit for Alex, too, right now, and the rest of our guys. Let's get a feel for where we're at, and then we'll know which direction to take and what we need to do to build it from there."
Riley's excitement is understandable because of the success Grinch has had running a defense that complements a high-powered offensive attack. Grinch worked under Washington State head coach Mike Leach and with the help of Manning and Odom, he crafted a dramatic turnaround from a statistical perspective.
Despite the fact that it was Grinch's first time running a defense, he performed as a seasoned veteran. Before his arrival, the Cougars ranked No. 99 nationally in total defense (442.3 yards per game), 127th in pass defense (296.6 yards per game) and 127th in turnovers gained (8). In 2017, his last season in Pullman, the Cougars were ranked 16th in total defense (323.3), ninth in passing defense (170.9) and ninth in turnovers gained (27).
The straight-forward attitude and brutal honesty of Grinch was what stood out most to Washington State coach Leach.
"He'd face it head on," Leach said. "He was intense and demanding. He would just try to elevate things. He wasn't a finger pointer. He wasn't a guy that tried to make excuses."
While the success of the past is encouraging, it's still the past. Nothing is guaranteed, but the excitement and energy the new staff members provide is more than just lip service.
"It's more than just wanting to be good. It's wanting to be good and then cultivating avenues to be good… you've either got it, or you don't," Manning said. "If you want to be average, if you're OK with just being OK, then you're probably not going to want to be in the same room as Alex Grinch, because he wants to be the best."
As fans get a better feel for the new Sooner defense, the mindset is a very simple one.
"The one thing we want people to see from those 11 guys on the field is relentless physicality play in and play out," Odom said. "Eye-popping in the speed at which they play and the athleticism, running to the ball with 11 guys attacking. We want to be able to hang our hat on the fact that there's nobody that will play with more effort than we do."
In the eyes of the new staff, the time to change is now.
"They have to get ready now," Odom added. "You can't just get ready in camp. Those games and that endurance level, that ability to mentally focus starts now. There are no days off… no lets' feel this out. We have to attack."
As Grinch huddled up his defense before one of his first spring practices as the Sooner defensive coordinator, his focus was passion.
"Your tempo is not predicated on them," he said. "Your tempo it's not predicated on how you feel. Your tempo is not predicated on the drill. There is one speed and it's your max speed, every single snap."
Welcome to the era of the "Speed D," welcome to the new energy of the Sooner defense. – BSM