by Steve Marshall
The Sabercats look to rebound from last year's 0-10 season, as they put the pieces of the puzzle back together from a year that offered many unexpected challenges.
"Last year we had some unforeseen circumstances, and we ended up playing a lot of guys that had never played varsity football before," said head coach Jeremy Stark. "On our 60-man roster, only five guys had ever played varsity before. On the flip side of that, all those guys are coming back."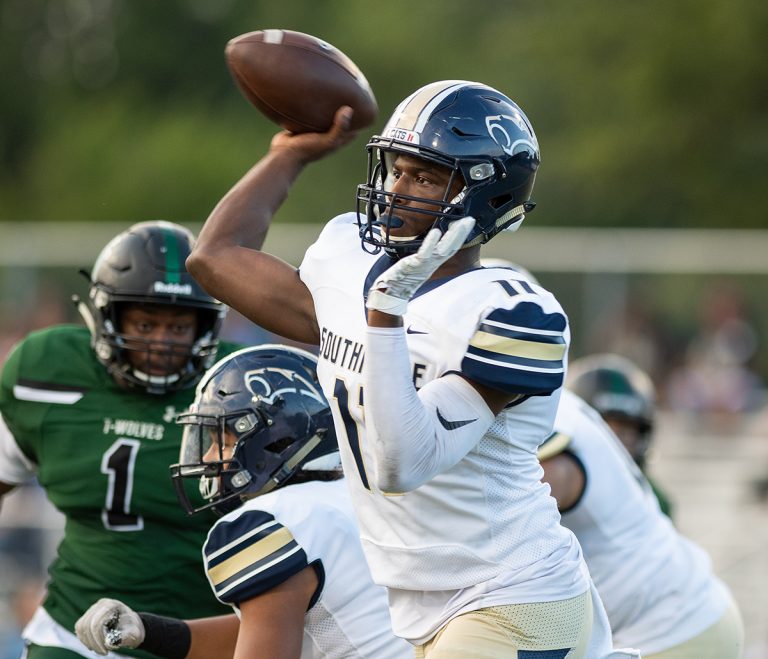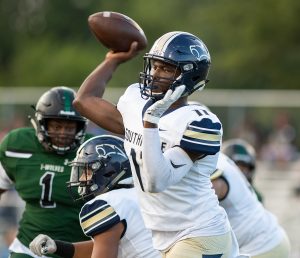 A part of the staff for nine years, Stark begins his fifth season at the helm at Southmoore High School. One of the key factors for this year's team will be the addition of Ty Prestige as offensive coordinator. Prestige has an impressive resume as head coach at Mustang and most recently Choctaw where his teams have always been able to put points on the scoreboard.
Southmoore has seven players retuning on offense, including all their skill guys and one lineman.
The quarterback will be junior Jaedyn Scott (6'2, 185) who returns after throwing for almost 500 yards and rushing for more than 600 yards as a sophomore. He was not expected to be the starter in the spring of last year but was "thrown to the wolves," Stark described. Yet, he still had a very productive year. Scott has also had a great summer, and big things are expected from him this season.
Southmoore's skill position group is loaded with almost everyone returning. Senior Marshall Mack (5'9, 155), the fastest player on the team, is joined by senior Donovan Gaines (5'10, 195).
"Those guys are pretty explosive when they get the ball in their hands," Stark said. "We're trying to get them the ball quickly and let them use their athleticism to make plays in space."
On the outside, they have Corbin Padgett (6'2, 190) and Max Gilbert (6'3, 195) both returning seniors. The running back position looks to be an open battle that Stark labels as a possible "by committee" battle until some of the candidates rise to the top.
The lone lineman returning is senior Brock Eltiste (5'11, 245), who started as a sophomore, but battled through ankle issues for most of last year. Stark said he believes Eltiste can help bring some of the youngsters up to speed and be the team leader on the offensive line.
The Sabercats have nine starters returning on defense and will continue to use a traditional 3-4 scheme. Up-front, senior Brian Shomali (5'11, 270) returns as a three-year starter. He will play mostly at defensive end, but he's athletic enough to be used occasionally at outside linebacker. The nose-guard position will be played by DJ Ware (5'11, 311) or Corey Callens (5'11, 260), on the opposite side of Shomali.
"They both started for us last year, and we expect nothing from those guys but to get better," Stark said.
Cody Clyma (6', 205) and Elijah Brewer (5'7, 185), both juniors, are returning starters at the linebacker position, and Stark said they both have a nose for the football.
In the secondary, Donovan Gaines returns as a three-year starter, but he may switch to safety after playing the last two seasons at linebacker.
"He's a very athletic guy," Stark said. "He played quarterback, running back and wide receiver last year, so we're excited about the skills he brings to our defensive backfield."
The corners are also returning starters with junior Marshall Mack, junior Khaden Easterwood (5'10, 165) and senior Trent Kimmel (6', 195). The trio provides the Sabercats a talented and experienced look on defense.
Southmoore opens the season at home when they host Deer Creek on Aug. 30. The Sabercats then will square off against rival Westmoore in the Southwest Showdown at Moore Schools Stadium on Sept. 7. The final non district game will be at Stillwater in week three before they open up district play Sept. 21. – BSM