Sooner fans woke up Sunday morning feeling even more confident in No. 5/7 Oklahoma's chances to win a fourth consecutive Big 12 championship. OU is fresh off a 63-14 dismantling of Florida Atlantic that harkened back to the early years of Bob Stoops when the Sooners dominated overmatched teams at home. Let's take a look back at some of the items that mattered.
1. So much for any worries at QB with Kyler Murray replacing Baker Mayfield
Before folks start. Yes, it was Florida Atlantic. Yes, redshirt junior quarterback Kyler Murray and the Sooners did what they were expected and supposed to do versus FAU. Still, did it not ease fans' minds a bit with what they witnessed on Saturday?
Murray looked cool, calm and collected as he made his first start of the 2018 season. Kyler completed 9-of-11 passes for 209 yards and two touchdown passes en route to building a 42-0 halftime lead. Things were so good offensively that Murray earned himself a seat before the contest even hit recess.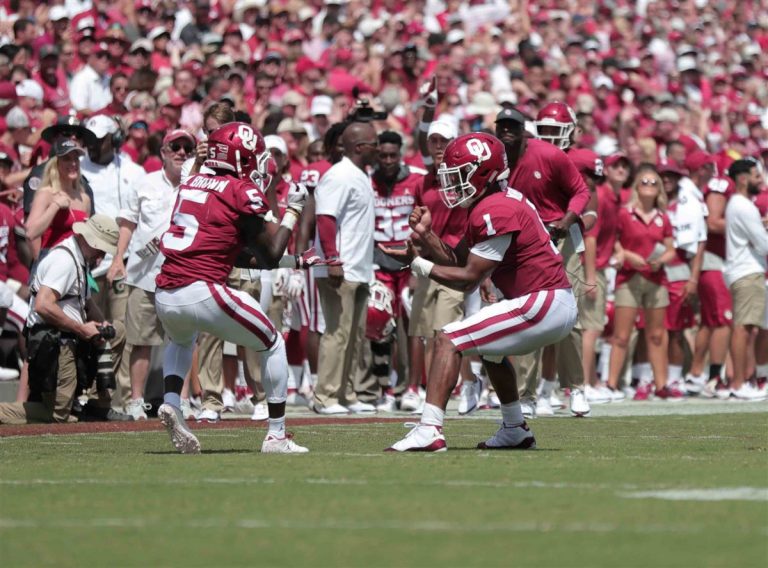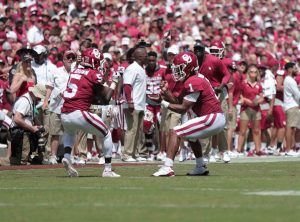 "Our guys played well around him. He played well himself. Very efficient, played very much within himself. Threw the ball well. I think he really only missed one throw the entire game. I thought he was efficient, commanded our group and did a nice job," OU head coach Lincoln Riley said.
Murray kept the football out of harm's way and let his skill guys go out and make plays for him. More on that in a moment.
2. And there was the razzle dazzle from Kyler that fans were hoping to see
There were a bunch of highlight plays on Saturday. This reverse-field scramble from Kyler might have netted the best response from the fans in attendance, though.
Officially: 15 yards

Reality: Quite a bit more #SCtop10 pic.twitter.com/T8L7RT41Up

— SportsCenter (@SportsCenter) September 1, 2018
OU football radio color voice Teddy Lehman summed it up best.
"Um, I think it's going to be a fun year, Toby," Lehman said.
3. Get the man a schollie
Redshirt junior walk-on wide receiver Lee Morris flat-out made plays versus FAU. First up, Morris blocked an Owls' punt that resulted in a touchdown for linebacker Curtis Bolton. It was the first blocked punt returned for a touchdown since Will Peoples did it against Texas Tech back in 2002.
🚨🚨🚨TOUCHDOWN🚨🚨🚨

Beamer Ball has arrived. Lee Morris blocked it and Curtis Bolton recovered it.#BoomerSooner pic.twitter.com/K4OMuiUwwa

— Sooner Gridiron (@soonergridiron) September 1, 2018
"That was good. It's fun to see it happen, fun to see it work. Coach Beamer has done a nice job with that group. Like I said, Lee Morris just made a great individual play," Riley said of the blocked punt.
That was just the beginning, though. Morris also did some grown man stuff to fight for this reception over the middle and then shrugged off defenders to race his way for a 65-yard touchdown reception.
🚨🚨🚨TOUCHDOWN🚨🚨🚨

Allen, Texas to Allen, Texas. Kyler Murray hits Lee Morris for his first TD pass of the season.#BoomerSooner pic.twitter.com/5wjHns69Fr

— Sooner Gridiron (@soonergridiron) September 1, 2018
"Individually, probably had the biggest impact on the game of anybody. The catch and run…it was such a competitive catch to begin with and then the run after. CeeDee had a great block down the sideline on it. That was awesome. He's done a great job. Not his first time around here to show up and make some big plays in a big game for us," Riley said about Morris' play.
Riley was asked afterwards about if and when he will have to reward Morris with a scholarship.
"Yeah, I am going to have to," Riley said before correcting himself. "I'm not going to have to, I'm going to get to [give him a scholarship] at some point."
4. Hollywood picked up right where he left off and then some
Murray trusted his teammates to go out and make plays for him. Take a look at this competitive 50-50 grab from Marquise "Hollywood" Brown.
WHAT. A CATCH. HOLLYWOOD BROWN.#BoomerSooner | @Primetime_jet pic.twitter.com/ZkRTYt190L

— Sooner Gridiron (@soonergridiron) September 1, 2018
It's nice to see Brown add a new element to his pass-catching repertoire. Or, perhaps better said, to put it on display for everybody. Hollywood finished with six receptions for 133 yards, including this dazzling 65-yarder that he took into pay dirt.
🚨🚨🚨TOUCHDOWN🚨🚨🚨

Murray ➡️ Brown. Too Easy.#BoomerSooner pic.twitter.com/HYtKhBWu1H

— Sooner Gridiron (@soonergridiron) September 1, 2018
5. Run defense looked improved
Easy before you toss your laptop or angrily call into SportsTalk to say that you've heard all these same lines before about an improved Sooner defense. What you haven't seen in some time is that type of defensive performance right out of the chute against an opponent in FAU that was receiving votes in both the AP and Coaches' Polls entering the contest.
Riley said it after the game and he's right. OU flew to the football on Saturday. Tackling can be improved, sure, but it was encouraging to see the Sooners rallying to the football as they did versus FAU. When the initial tackle wasn't made, someone else was there to clean it up.
Entering Saturday, much of the conversation centered around the Sooners working to contain FAU star running back Devin Singletary. Singletary rushed for 1,920 yards on 301 carries (a 6.4 yards per carry average) with 32 touchdowns a season ago. The Sooners dramatically slowed that pace.
Singletary rushed 18 times and finished with 69 yards, or just a 3.8 yards per carry average. Obviously, he doesn't have the talent around him up front that Georgia possessed. That said, it's still a far cry and massive improvement from the 326 rushing yards and five scores that Georgia running backs Sony Michel (181 rushing yards, 11 carries) and Nick Chubb (145, 14 carries) combined to tag OU's defense with the last time we saw this unit in the Rose Bowl.
Quick calculation on those last numbers. That means Michel and Chubb combined to average an absurd 13.04 yards per carry. As a team, FAU finished with 132 rushing yards and a 3.14 yards per carry average.
It's early and it's one game, but that was an encouraging sign against one of the nation's better running backs in a season where the Sooners will see a bunch of good ones.
**Friendly PSA: Angry callers are still accepted and you can do so by dialing 405-329-9000 for the Rod Polston Oklahoma Tax Resolution line to talk with any of our show hosts. Happy callers are typically preferable, however.**
6. Young guys played and impressed all over the field
Some of this is due to the NCAA's new four-game redshirt rule and the fact that the game got out of hand so quickly, but Riley played a ton of different bodies on Saturday. It was fun to see.
Freshman defensive end Ronnie Perkins is one that comes to mind. Perkins finished with four tackles, all of the solo variety. Freshman linebacker DaShaun White had four tackles, two solo. Freshman wide receiver Jaylon Robinson had a pair of grabs for 17 yards. Sophomore safety Robert Barnes got in, made three tackles and accounted for the game's only turnover when he picked off FAU quarterback Rafe Peavey's pass with 14:51 left in the fourth quarter.
Oklahoma starts the fourth quarter with an interception by Robert Barnes. #Sooners pic.twitter.com/IyYMwskzn0

— Sooner Gridiron (@soonergridiron) September 1, 2018
There's seriously too many to list. But, you want Bookie. I want to give you Bookie. Freshman nickel back Brendan Radley-Hiles was impressive in his much-hyped debut, including this vicious throwdown of FAU wide receiver Willie Wright.
Flex on 'em, @Bookie_44. #Sooners pic.twitter.com/MDCGcrYzub

— Sooner Gridiron (@soonergridiron) September 1, 2018